The Sussman Lecture Series
The Sussman Lecture Series is dedicated to studying issues that define our public life and engaging students and citizens in constructive dialogue regarding these issues.
Founded on the premise that good public policy is best achieved when policymakers have access to high quality information, political processes are open and well-understood, and citizens are informed and active participants, The Harkin Institute seeks to create opportunities for thoughtful policy discourse in a nonpartisan environment.
The Sussman Lecture Series hosts a notable public policy figure to discuss topical current events with a small audience. The series was established by Richard Sussman, AS'51, and his late wife Lila. Tickets are required and seating is limited to provide an intimate experience for attendees.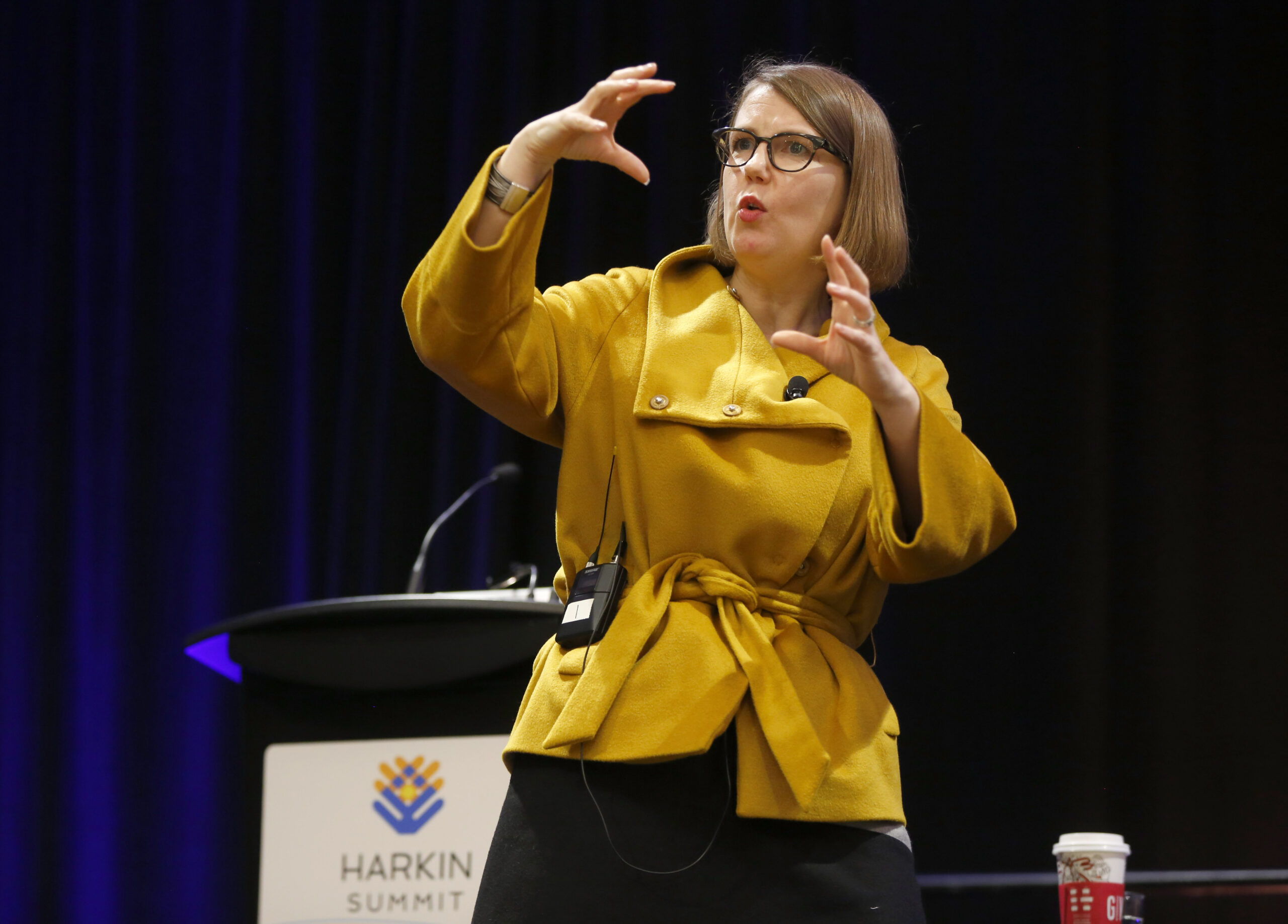 Virtual Sussman Lecture feat. Microsoft's Jenny Lay-Flurrie
September 16, 2020, 7 p.m.
This event is virtual. Participants will receive a link ahead of the event.
The Fall 2020 Sussman Lecture will feature Jenny Lay-Flurrie, Chief Accessibility officer at Microsoft.
Lay-Flurrie will discuss the company's commitment to competitive, integrated employment for people with disabilities as well as how Microsoft's tools and software have been integral to creating accessible remote work opportunities for all employees. The coronavirus pandemic was a huge disruption to where and how Americans work. Businesses across the country moved to telework and employees developed new work-from-home routines. In this time of unprecedented change and uncertainty, Microsoft has demonstrated itself as a leader both in accessible technology and its commitment to employment for people with disabilities.
Increasing employment opportunities for people with disabilities has been a priority for Senator Tom Harkin (retired) and The Harkin Institute, since our founding in 2013. Only about 29 percent of working-age Americans with disabilities are employed even though many want to work. What's more, people with disabilities are more likely to be laid off when there is a downturn in the economy. Approximately 20 percent of working people with disabilities have lost a job as a result of the pandemic, compared to 14 percent of non-disabled workers.
Lay-Flurrie, who is profoundly deaf, leads many Microsoft initiatives to empower people with disabilities both inside and outside the company. She has been with the company since 2005 and has a passion for helping Microsoft serve as a model of how to recruit and retain employees with disabilities.
The Harkin Institute is committed to providing valuable programming that helps to promote citizen engagement and encourage civil interaction on challenging issues. Your financial support helps us ensure our programming is accessible to all members of the public. Make your gift here.
Address: 2429 University Avenue, Des Moines, IA 50311
Phone: (515) 271-3623
Fax Number: (515) 271-3631
Email: harkininstitute@drake.edu
Office Hours: Monday to Friday 9:00 a.m. to 4:00 p.m.