Wyatt Anderson is one of three recipients of the 2018 D.C. Experience Scholarship, which provides financial support for Drake University students interning in Washington, D.C., for the summer. He will provide bi-weekly updates of his time in D.C.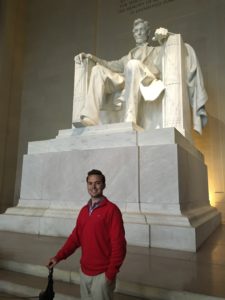 Hello everyone, this is Wyatt Anderson. I am going to be a Sophomore at Drake University this fall. At Drake I am double majoring in Law, Politics, and Society (LPS) and Politics with a minor in business. I am incredibly happy to report that my first two weeks here in Washington D.C. have been fantastic!
One event that I want to highlight is that I accepted a, internship transfer. Within the first two days of interning for one of my state representatives on Capitol Hill I got an internship offer from the Junior State of America (JSA) Foundation. I chose to accept because instead of being limited to only experiences in the Capitol through my Capitol Hill internship I have been getting a much more well-rounded internship experience through JSA.
Their organization has many duties, including lobbying and putting on leadership programs for high school students. One of my jobs at work is to book guest speakers for those programs. Last Thursday at work I talked to EPA leader Scott Pruitt and Secretary of State Mike Pompeo for 45 minutes each – those have each been some of my favorite experiences in these first two weeks. So far, I have been working with JSA at their Georgetown office, and traveling with them to lobby with many different people on Capitol Hill. Next week will be even better because for Monday, Tuesday and Wednesday, I will be attending briefings with them at the White House!
This summer, I am participating in the Leadership and the American Presidency program. In addition to the internship, I am taking an advanced politics class that will transfer as politics credit through Drake. Class is going great. The assignments are engaging, the professor is fantastic, and the locations for class are even better. Every Tuesday we have class at George Washington University, where I am staying, but every Friday class is in a different location. Last Friday we had class at Mount Vernon, and the first Friday we had class at Abraham Lincoln's cottage right outside of D.C.
In addition to class, this summer program has also brought in fantastic guest speakers twice a week and planned some fun events every weekend. Some of our guest speakers have included Rep. Nancy Pelosi, former White House photographer Pete Souza, and many others that each had a unique but also uniform perspective on what makes a good leader. On the weekends I have gone to the congressional baseball game, kayaked on the Potomac River, and explored the National Mall. The Smithsonian institutes are on my agenda for next weekend.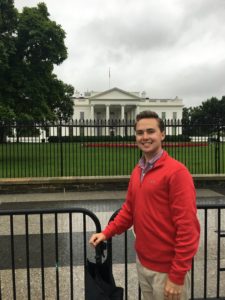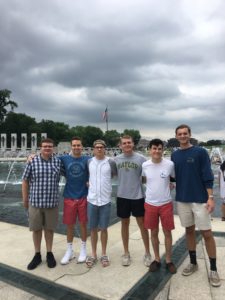 Address: 2429 University Avenue, Des Moines, IA 50311 Phone: 515-271-3623 Fax Number: 515-271-3631 Email: harkininstitute@drake.edu Office Hours: Monday to Friday 9 a.m. to 4 p.m.