The Harkin Institute seeks out motivated and engaged students for its student employee program. Student employees are members of an important professional team, which is second in priority only to academics.
APPLY NOW ON HANDSHAKE!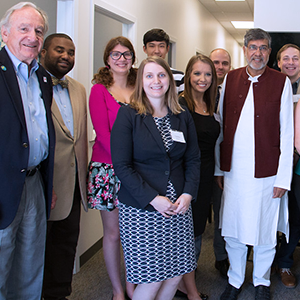 Through the course of their employment, students are asked to organize and execute high-level projects for full-time staff. They are held to a higher standard than their peers. A position at The Harkin Institute is much more than a part-time job; it is a real-world opportunity to do real-world work.
In return for the commitment to The Harkin Institute, student employees will have a unique opportunity to join full-time employees in a variety of settings, help on long-term research projects, and gain exposure to national thought leaders and policymakers. Full-time staff take personal interest in students' professional development. When student employees have excelled in their role, full-time staff will begin to provide them with networking and mentorship opportunities. Student employees take part in a weekly professional development series. Student employees will graduate with skills, experiences, and connections far beyond their peers.
Opportunities for student employment at The Harkin Institute include, but are not limited to, roles in communications, policy research, and data analysis. As students continue to commit their time to The Harkin Institute, they will find themselves with promotions, in management roles, and as student leads on specific projects.
The Harkin Institute is currently accepting applications for our student employee team! Drake University undergraduates can learn more and apply on Handshake through Wednesday, February 13. Contact Catherine Anderson, catherine.anderson@drake.edu, with any questions.
The Harkin Institute has the following positions available:
Communications Assistant

Participates in various stages of developing collateral materials to promote the work of The Harkin Institute, including assisting with graphic design and/or video conceptualization
 Designs both digital and print promotional materials such as fliers, brochures, posters, newsletters, direct mail pieces, advertisements, and more
Works creatively while ensuring all designs are properly aligned with The Harkin Institute branding standards
Staffs Harkin Institute events

Public Policy, Office, & Event Planning Assistant

Monitors and researches media coverage, public policy issues, and programs as assigned
Creates summaries and in-office memos as assigned
Assists with pre-event logistics and staffs events
Assists with executive level transcription
Administrative duties as assigned with office administration and analysis assignments
Address: 2429 University Avenue, Des Moines, IA 50311
Phone: 515-271-3623
Fax Number: 515-271-3631
Email: harkininstitute@drake.edu
Office Hours: Monday to Friday 9 a.m. to 4 p.m.