Throughout his career, Senator Tom Harkin sought health care system reforms and discussions to bring a progressive focus to prevention, wellness, medical research, and food and drug safety. 2021 Harkin on Wellness Symposium
This year's symposium explored how food is medicine to our bodies, society, economy and environment. "Food is Medicine" solutions promote better wellbeing, lower health care costs, resilient and sustainable practices, reduced disparities among population groups, improved economic competitiveness and greater national security.
Strategies to Improve Healthy Eating in SNAP
The Stategies to Improve Healthy Eating in SNAP, An Iowa Perspective report offers recommendations to inform the potential impact, feasibility, barriers, and supports for future pilot projects to test strategies to better support healthy eating among SNAP recipients.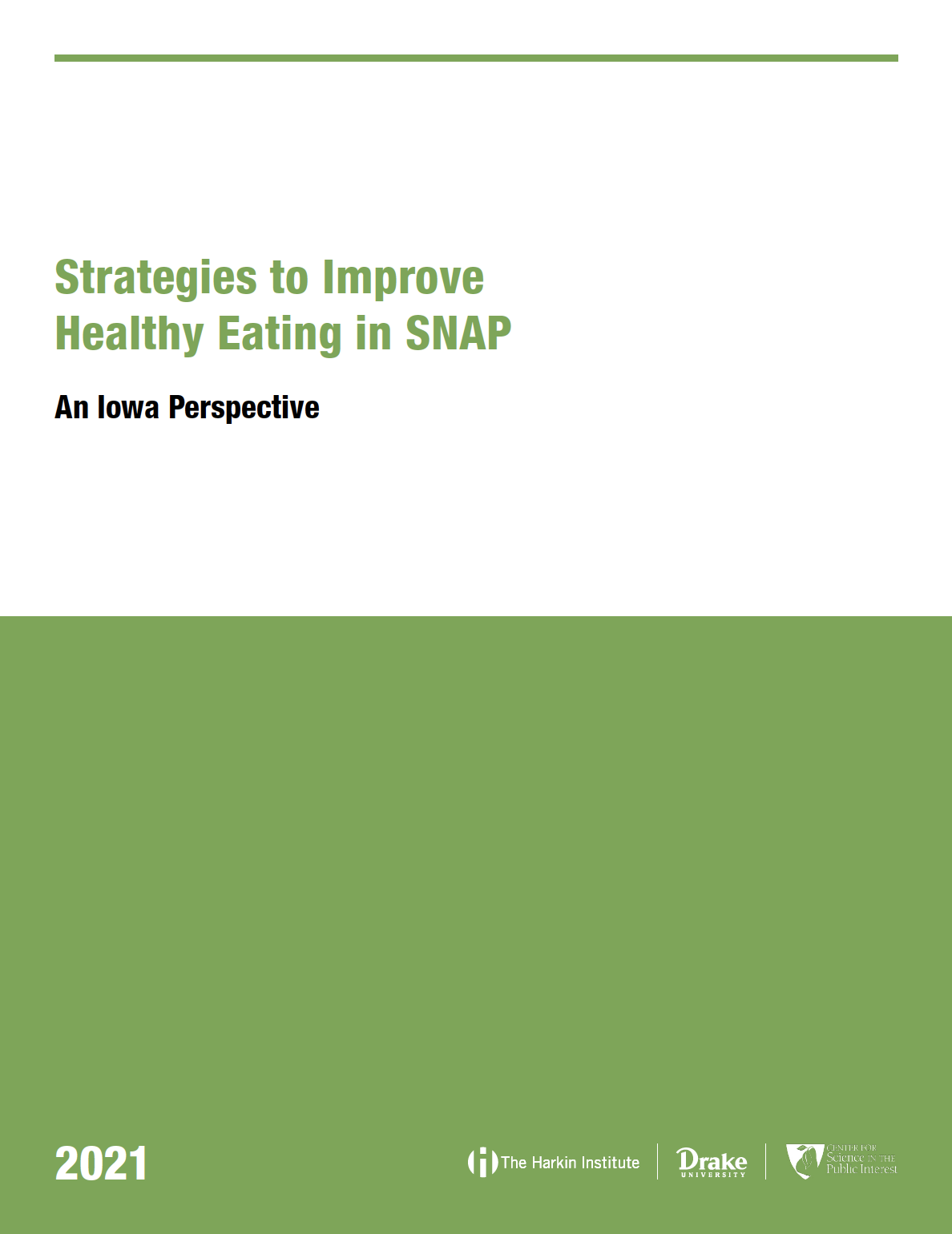 2019 Harkin on Wellness Report
The 2019 Harkin on Wellness (HOW) Report provides detailed information about 10 successful community wellness and nutrition initiatives from around the United States. The report was designed to share best practices for how communities and organizations can invest in health.
What's Happening Now
The Harkin Institute for Public Policy & Citizen Engagement works tirelessly every day to advance Senator Harkin's legacy within the realm of wellness and nutrition. Within the past year, The Harkin Institute established a Core Advisory Committee comprised of experts in the wellness and nutrition field to direct our focus in this area. Under the guidance of our National Advisory Council and associate director of wellness and nutrition policy, Lyndi Buckingham-Schutt, The Harkin Institute will focus its time and resources to research and add to the dialogue about food subsidies, school nutrition, and the impact of diets on climate change. Watch for more research and information published by The Harkin Institute in the coming months. Working in collaboration with Senator Harkin, a Wellness and Nutrition Core Advisory Committee has identified and defined the following research agenda that will drive The Harkin Institute's public policy initiatives in wellness and nutrition:
School nutrition
Food subsidies (Supplemental Nutrition Assistance Program and WIC)
The impact of diet on climate change
As chair of the Health, Education, Labor and Pensions Committee, and ranking member of the Subcommittee on Labor, Health and Human Services and Education of the Senate Committee on Appropriations, Senator Harkin played a key role in spearheading efforts to enact innovative initiatives to keep individuals and families healthy not only in the doctor's office but also where they live, work, and play. Highlights of Sen. Harkin's work include:
Patient Protection and Affordable Care Act: Establishing Wellness and Prevention as National Priorities Sen. Harkin authored many prevention provisions including the creation of the $15 billion Prevention and Public Health Fund, a dedicated stream of funding for public health, wellness, and prevention initiatives. The ACA also included workplace wellness initiatives and nutrition labeling requirements. Expanding Community Health Centers Throughout his 25 years as chair or ranking member of the Labor, Health and Human Services, and Education Subcommittee, Sen. Harkin tripled funding for community health centers from $496 million in 1989 to $1.5 billion in 2014. Supporting the Centers for Disease Control and Prevention Senator Harkin spread national awareness of the importance of prevention by changing the name of the Centers for Disease Control in 1991 to the Centers for Disease Control and Prevention. He was also instrumental in more than tripling the CDC's annual funding from 1995 to 2014. That increase from $2.1 billion to $6.8 billion allowed for historic investments in prevention. Leadership in Smoking Cessation In 1994, Sen. Harkin expanded research to include the impact of tobacco smoking. In 1998, he introduced a bipartisan bill to give the FDA authority to regulate tobacco. Improving Mental Health Care As a longtime champion of equitable insurance coverage for mental health conditions, Sen. Harkin introduced numerous programs to enhance the nation's capacity for awareness, prevention, early identification, and services and treatment for mental health conditions. Investing in Critical Medical Research Senator Harkin has been a leader in the investment in the National Institutes of Health's biomedical research that has yielded many important breakthroughs. He has also worked tirelessly to secure resources for continued support of groundbreaking science. Safeguarding the Food Supply Sen. Harkin guided the FDA Food Safety Modernization Act, one of the most significant improvements to America's food and safety standards in decades. This act enforced higher restrictions to keep food safe from farm to fork for all Americans. Ensuring Safe and Effective Drugs and Medical Devices Sen. Harkin worked to modernize oversight of drug manufacturing, establish a nationwide drug-tracking system, transform the pharmaceutical distribution system, and regulate drug compounding.
Address: 2800 University Avenue, Des Moines, IA 50311
Phone: (515) 271-3592
Fax Number: (515) 271-3631
Email: harkininstitute@drake.edu
Office Hours: Monday to Friday 9:00 a.m. to 4:00 p.m.