National Advisory Council
The Harkin Institute's bipartisan National Advisory Council is comprised of national leaders in business, public service and education who provide guidance and direction for the institute while serving as some of its most ardent supporters.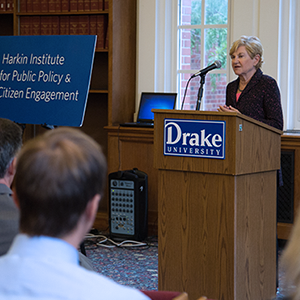 In addition to providing valuable insight on strategic planning for the institute, members of the National Advisory Council (NAC) play a vital role as speakers and mentors.
Through various capacities, NAC members offer internship and professional development opportunities to Drake University students involved with The Harkin Institute.
Marsha Ternus, J.D. (Chair)
Former Iowa Supreme Court Chief Justice
Inaugural Executive Director, The Harkin Institute
Charles E. Cook, Jr.
Editor and Publisher, The Cook Political Report
Columnist, National Journal
Angela L. Walker Franklin, Ph.D.
President, Des Moines University
Michael G. Gartner
Principal Owner, Iowa Cubs
Pulitzer Prize-winning journalist
Former President, NBC News
Ruth R. Harkin
Former Senior Vice President, United Technologies Corporation
Past Member, Iowa Board of Regents
James W. Hubbell III
Chairman, Hubbell Realty Company (Retired)
Sally J. Pederson
Former Lieutenant Governor of Iowa
Stephen W. Roberts, J.D.
Retired, Davis Brown L.L.P.
Former Iowa Republican State Chairman
Mary Sellers
Former U.S. President, United Way Worldwide
Steve Sukup
President and CEO, Sukup Manufacturing
Address: 2800 University Avenue, Des Moines, IA 50311
Phone: (515) 271-3623
Fax Number: (515) 271-3631
Email: harkininstitute@drake.edu
Office Hours: Monday to Friday 9:00 a.m. to 4:00 p.m.