Wyatt Anderson is one of three recipients of the 2018 D.C. Experience Scholarship, which provides financial support for Drake University students interning in Washington, D.C., for the summer. He will provide bi-weekly updates of his time in D.C.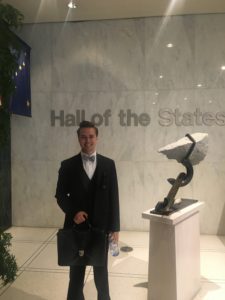 Hello, everyone. My third and fourth weeks here in Washington, D.C. have been just as fantastic as the first two weeks were. My Leadership and the American Presidency class has kept me very engaged and intrigued. During week three, we had to write an Op-Ed on a topic of our choice. I chose to write about solar power. Our major assignment for week four was to write a policy memo. The topic that I chose to write on for that was immigration reform. This class is just as amazing as any politics classes that I have taken at Drake, but this one really goes in depth of what it takes to be a leader, in context with current events that are going on all around the world.
As far as exploring D.C. goes, I also had some very busy days these past two weeks. Yesterday, I kayaked the Potomac River all afternoon, and last Sunday I went to service at the Washington National Cathedral in the morning and then spent the rest of the day in the National Museum of African American History & Culture. So, with doing all of those things I have had a pretty amazing two weeks since my last update, but that isn't all that I have been up to.
Last week, through my internship at the Junior States of America, I got to speak personally over the phone with several cabinet members to ask them to guest speak at some events for us. Plus, all last week I spent my days hand delivering dozens of guest speaker invites to representatives and senators, while talking with them and making friendships. One of those friendships lead me to the tennis courts. I met a man in an elevator on Capitol Hill who invited me to a tennis match at his estate. To my surprise, when I got there I soon realized that I would be playing doubles with him against a member of the congressional leadership.
As if that wasn't enough, last Friday my mentor that works at the White House invited me to go bowling with him and various other White House officials at the Truman Bowling Alley!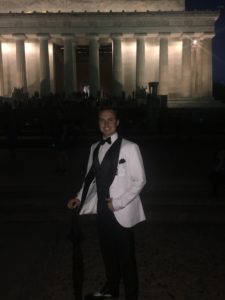 Address: 2429 University Avenue, Des Moines, IA 50311 Phone: 515-271-3623 Fax Number: 515-271-3631 Email: harkininstitute@drake.edu Office Hours: Monday to Friday 9 a.m. to 4 p.m.