Lauren Goetze is one of three recipients of the 2018 D.C. Experience Scholarship, which provides financial support for Drake University students interning in Washington, D.C., for the summer. She will provide bi-weekly updates of her time in D.C.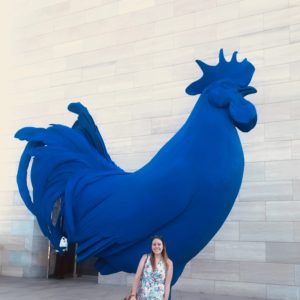 With four weeks of my internship already complete, I cannot believe how fast the summer is going! The past two weeks have been filled with professional development events, as well as exciting sightseeing around the city.
Two weeks ago, Peace Corps held a resource fair, allowing all employees and interns to speak with people from all areas in the company, which was a great opportunity to learn more about Peace Corps, as well as the wide range of careers available in the international development field.
That week I was also able to attend a young professionals network event at the Society for International Development. This brought together some of the most innovative professionals in the field working to increase support for humanitarian workers who are victims of sexual harassment or assault. It was a very interesting and hopeful discussion on one of the foremost issues affecting international development organizations, and hearing from the individuals working to make new policies was incredibly informative.
Additionally, some of my fellow interns and I were able to take a night time tour of the national mall, led by one of our coworkers who used to work as a docent for the National Parks Service.
Last week, I was able to meet some fellow Drake students in the area at an Alum-Intern mixer, as well as explore the National Gallery of Art, Embassy Row, and the Dupont Circle area. I have also begun my summer class in intermediate microeconomics, which has prompted me to discover many new coffee shops in the area.
As I become more familiar with the area, it is definitely starting to feel more like home, and I'm incredibly excited to see what the rest of the summer brings!
Address: 2429 University Avenue, Des Moines, IA 50311 Phone: 515-271-3623 Fax Number: 515-271-3631 Email: harkininstitute@drake.edu Office Hours: Monday to Friday 9 a.m. to 4 p.m.