Lauren Goetze is one of three recipients of the 2018 D.C. Experience Scholarship, which provides financial support for Drake University students interning in Washington, D.C., for the summer. She will provide bi-weekly updates of her time in D.C.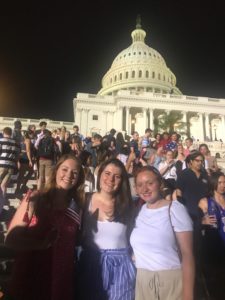 The past two weeks have been incredibly exciting, from celebrating Independence Day at the Capital to starting interesting projects at my internship.
Recently, I have begun encouraging my department to increase the use of data in decision making. Analyzing the data we have already collected, as well as gathering additional data, has allowed me to initiate projects evaluating the effectiveness of our programs. We can also explore different combinations of programs that produce the most applicants.
Additionally, I am working to increase historical knowledge of our programs, as this can often be lost with the frequency of staff changes. Further, I have also started evaluating the diversity of individuals we reach with our programs, and how that correlates to the diversity of applications to serve we receive. With six weeks of my internship already complete, I feel like I am making significant progress towards my goals and am excited to see the results of my projects.
Additionally, I've had the opportunity to meet with many interesting people from all areas of the organization to learn about their service experiences and career paths. As I consider applying for Peace Corps service after graduation, it has been invaluable to learn about others' service, as well as their careers in international development.
On the Fourth of July, I was lucky enough to watch the fireworks from the Capitol steps with my roommate and some of our fellow interns. Seeing the fireworks with the Washington Monument in the foreground and the Capitol behind us was an experience I will not soon forget. The previous evening, we were also able to watch some of the rehearsal, including performances from the Beach Boys and Jimmy Buffet.
Other than that, I have been spending my time studying, exploring museums, meeting as many people as I can in the international development field, and frequenting farmers markets. While the farmers markets are not quite as impressive as Des Moines', it is refreshing to have a reminder Iowa. I'm looking forward to more exciting professional events in the next two weeks, as well as some visitors from the Midwest!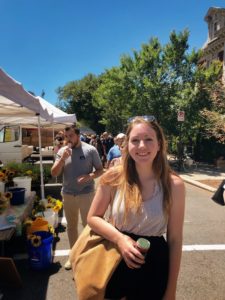 Address: 2429 University Avenue, Des Moines, IA 50311 Phone: 515-271-3623 Fax Number: 515-271-3631 Email: harkininstitute@drake.edu Office Hours: Monday to Friday 9 a.m. to 4 p.m.