Anna Gabalski is one of three recipients of the 2018 D.C. Experience Scholarship, which provides financial support for Drake University students interning in Washington, D.C., for the summer. She will provide bi-weekly updates of her time in D.C.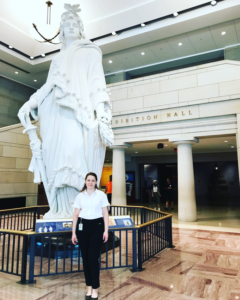 Hello, my name is Anna Gabalski and I will be a junior at Drake University in the fall. I am studying Law, Politics, & Society and Political Science. I will be spending the rest of the summer interning for Congressman Dave Loebsack at his Washington, D.C. office! I have just finished my first two weeks and could not be happier!
Living and interning on the Hill has been a life-changing experience. I am extremely lucky because my internship allows me to have access to briefings, hearings, and lectures. I am learning so much by attending these events. A Supreme Court Justice will be giving a lecture in the next few weeks and I am hoping I will be able to attend! I think my favorite part of the job is giving tours of the Capitol. I just love the history behind the building and find myself feeling extraordinarily lucky to able to walk the same halls as so many important people from history. I have also had the amazing opportunities to walk around the House floor and to see the National Mall from the Speaker's Balcony! I was able to see the Fourth of July concert and fireworks from the steps of the Capitol! I cannot wait to see what is in store for me in the next few weeks!
I walk past the Supreme Court and Capitol every day and I can honestly say that I don't think I will ever get used to it! Another one of my favorite things to do is to go to the monuments and museums around D.C. I love exploring the area and walking along the National Mall. The monuments are incredible! Also, I am never bored because of the vast number and variety of museums! I can't wait to continue to explore D.C. and continue to grow and learn.
Address: 2429 University Avenue, Des Moines, IA 50311 Phone: 515-271-3623 Fax Number: 515-271-3631 Email: harkininstitute@drake.edu Office Hours: Monday to Friday 9 a.m. to 4 p.m.