Since announcing The Harkin Institute's Harkin on Wellness designees in March, Harkin Institute staff members have had the opportunity to visit several organizations to learn more about their work, participate in panel discussions and engage in valuable discussions on how to grow community wellness programs throughout the country.
DC Central Kitchen
In May, Senator Tom Harkin (retired) and Harkin Institute employees Lyndi Buckingham-Schutt and Emily Schettler visited DC Central Kitchen ahead of a National Press Club event announcing the Harkin on Wellness Report results.
DC Central Kitchen prepares more than 13,000 meals every day for local shelters, nonprofits, and public schools and is the food service provider for 15 schools throughout Washington, D.C.
The visit included a tour of the main DC Central Kitchen facility by CEO Mike Curtin and conversations with employees and volunteers. The organization relies on help from 16,000 volunteers each year. DC Central Kitchen also provides living-wage jobs to otherwise unemployed individuals and offers a training program to help individuals with barriers to employment re-join the workforce.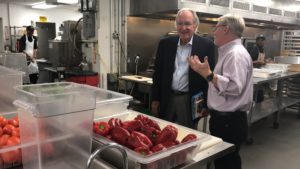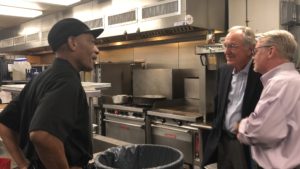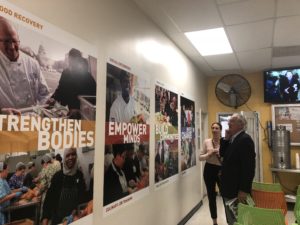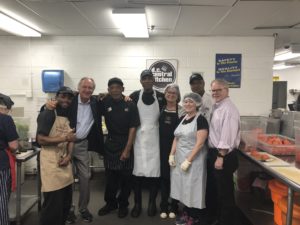 Common Threads: Healthy Cooking and Nutrition Education
Buckingham-Schutt attended a panel discussion in June hosted by Common Threads, NYU Langone Health, and the NYU Center for the Student of Asian American Health. The event gathered thought leaders focused on addressing health disparities in the Asian community through nutrition education.
Common Threads brings health and wellness to children, families, and communities through cooking and nutrition education by integrating preventive health programs into school districts and community organizations. The organization provides nutrition education for students of all ages and offers parent and community workshops that cover topics such as basic nutrition, grocery shopping, cooking with kids, grocery store tours, healthy teacher trainings, and teacher cooking classes.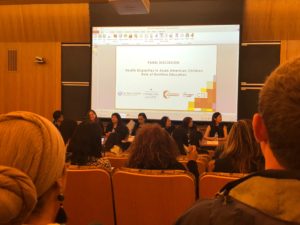 Edible Schoolyard New York
During her trip to New York City, Buckingham-Schutt was also able to visit Edible Schoolyard New York. The organization partners with New York City Public Schools to transform eating habits of over 3,300 children through garden and kitchen classes integrated into the school day. The organization operates three key programs in Manhattan, Brooklyn, and the Bronx. Staff members teach edible education lessons incorporating English, math, science, and social studies into the program.
The program also engages parents through family cooking classes and supports educators with workshops and technical assistance.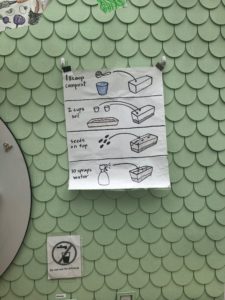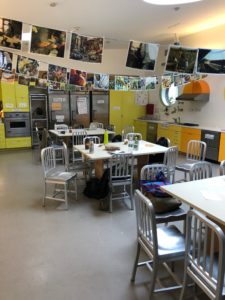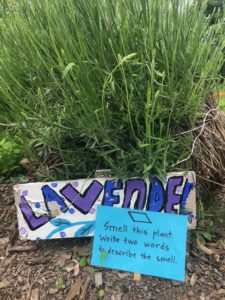 Address: 2429 University Avenue, Des Moines, IA 50311 Phone: 515-271-3623 Fax Number: 515-271-3631 Email: harkininstitute@drake.edu Office Hours: Monday to Friday 9 a.m. to 4 p.m.