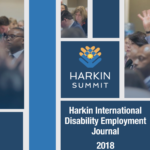 The Harkin Institute for Public Policy & Citizen Engagement has released the conference proceedings for the 2018 Harkin International Disability Employment Summit. The Harkin International International Disability Employment Journal provides detailed information and takeaways from the third Harkin Summit, which took place November 15-16, 2018, in Washington, D.C.
As Senator Tom Harkin (retired) said in the journal, "The progress for increasing employment of persons with disabilities is not inevitable. It is going to require dedicated individuals to keep pushing forward and continue their tireless efforts."
The journal was released in conjunction with the 2019 Harkin Summit in Paris, France, hosted in partnership with Humanity and Inclusion.