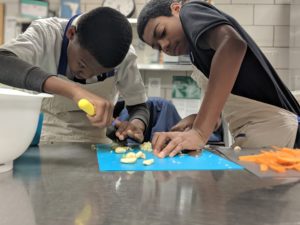 The Harkin Institute for Public Policy & Citizen Engagement has awarded its 2019 Harkin on Wellness Designee to 10 community health initiatives throughout the country for their work strategically connecting food systems with health and wellness. The Harkin Institute received 51 submissions, and the list was narrowed to 10 designees through a rigorous review process that included both internal and external groups of reviewers.
These 10 programs were selected as the best examples of wellness programs and initiatives in the United States. Join us for the official release of the 2019 Harkin on Wellness Report on Wednesday, June 12, at the National Press Club. A summary of the report is available here.
2019 Harkin on Wellness Designees
Boulder Valley School District School Food Project
Colorado Children's Hospital
DC Central Kitchen
Detroit Food Academy
DMARC
The Farm at St. Joe's, Saint Joseph Mercy Health System
Food Commons
Green Bronx Machine
Main Street Project: Sharing Our Roots Program
New Haven Farms
Address: 2429 University Avenue, Des Moines, IA 50311 Phone: 515-271-3623 Fax Number: 515-271-3631 Email: harkininstitute@drake.edu Office Hours: Monday to Friday 9 a.m. to 4 p.m.