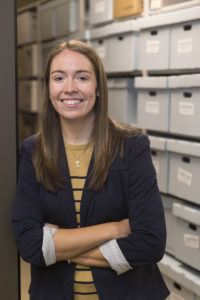 Drake University Political Papers Archivist Hope Bibens has been elected to serve as president of the Association of Centers for the Study of Congress (ACSC).
Bibens, who has worked for Drake since 2014, is responsible for curating the Political Papers Collection, which includes the papers of Senator Tom Harkin, Congressman Neal Smith, Governor Robert Ray, and State Representative Wayne Ford.
ACSC supports a wide range of programs designed to inform and educate students, scholars, policymakers, and members of the general public on the history of Congress, legislative process, and current issues facing Congress.  ACSC also encourages the preservation of material that documents the work of Congress, including the papers of representatives and senators, and supports programs that make those materials available for educational and research use. The Harkin Institute is the member of the organization.
Address: 2429 University Avenue, Des Moines, IA 50311 Phone: 515-271-3623 Fax Number: 515-271-3631 Email: harkininstitute@drake.edu Office Hours: Monday to Friday 9 a.m. to 4 p.m.