Julie Uram is one of four recipients of the 2019 D.C. Experience Scholarship, which provides financial support for Drake University students interning in Washington, D.C., for the summer. She will provide bi-weekly updates of her time in D.C.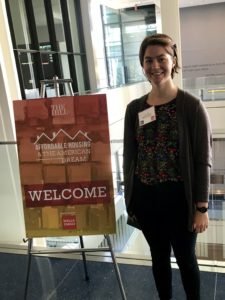 The title of my position is State and Local Policy Intern and I work under the supervision of Joelle Johnson, Senior Policy Associate at the Center for Science in the Public Interest (CSPI). A leading food safety and nutrition access advocacy organization, CSPI combines law and policy research to educate consumers, businesses, and policymakers about safe and healthful eating.
My summer assignment relating to state policy is a collaborative project between CSPI and The Harkin Institute called Healthy SNAP Iowa. In order to increase the nutritional benefits and outcomes of the Supplemental Nutrition Assistance Program (SNAP), CSPI and The Harkin Institute are hosting in-state convenings to gather perspectives from SNAP stakeholders, in addition to phone interviews with key informants across the state. In July, I will begin the phone interview and qualitative data analysis process, but for now I am working with Lyndi Buckingham-Schutt, of The Harkin Institute, to coordinate and prepare for the convenings. Previous projects I have worked on during my time at the Institute have provided me a deep contextual understanding of the importance of addressing nutrition incentives and restrictions within SNAP.
My second high priority project for the summer includes scientific and policy research on the subject of sugar-sweetened beverage (SSB) taxes and warning labels. CSPI is part of the DC SSB Tax Coalition, working to investigate and propose a local SSB tax. In addition, CSPI provides scientific evidence and advising to groups across the country looking to propose SSB warning labels, work which I have begun contributing to through research and meeting attendance.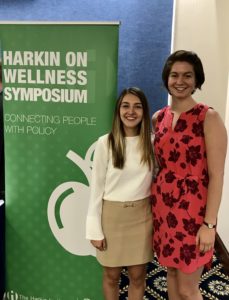 While my research experience at The Harkin Institute has been focused on SNAP policy, I am excited for the opportunity to learn about SSBs as a public health and policy topic. I am also inspired to think critically about nutrition policy. In my short time at CSPI, I have begun to conceptualize and speak differently about federal nutrition programs, starting with the acknowledgment that low-income individuals and minority populations experience disproportionate rates of diet-related chronic illness.
I attended the event "Affordable Housing and the American Dream" because I believe that affordable housing and food insecurity are inherently related and my current internship is in food and nutrition policy. Also, my Drake First Year Seminar course "American Dreams" taught me to continually consider the relationship between homeownership and democracy!
My Harkin Institute co-worker, roommate, and friend Sloan Nickel and I attended the HOW Report Release at the National Press Club. We got to speak with Senator Harkin, individuals from local partner agencies, and hear inspiring stories from two of the organizations recognized in the report. Everyone should look up the Green Bronx Machine!
Address: 2429 University Avenue, Des Moines, IA 50311 Phone: 515-271-3623 Fax Number: 515-271-3631 Email: harkininstitute@drake.edu Office Hours: Monday to Friday 9 a.m. to 4 p.m.