Ivy Beckenholdt is one of four recipients of the 2019 D.C. Experience Scholarship, which provides financial support for Drake University students interning in Washington, D.C., for the summer. She will provide bi-weekly updates of her time in D.C.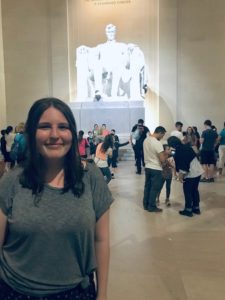 I've been in Washington, D.C. for two weeks now, and it has been amazing! As an intern for U.S. Congresswoman Cindy Axne, I have already learned so much about the legislative process. Having the opportunity to attend congressional briefings has been exciting and informative. I recently attended an informative event regarding global immunization. I never expected to have the opportunity to learn from the leaders of UNICEF and the Centers for Disease Control and Prevention, but I did and it educated me greatly on global health. Researching legislation here has helped me to have a better understanding of how the work done in D.C. helps those in Iowa. As an intern, I have given tours of the U.S. Capitol and learned a lot about our nation's history. To give tours of such a historically important building has been surreal.  
On the weekends I have had more opportunities to explore D.C. Visiting the Washington Monument, Lincoln Memorial, and the Smithsonian – National Museum of American History has been so exciting. I love being in places that showcase where such historical moments have taken place. Being in the place where Martin Luther King, Jr., gave his "I Have a Dream" speech was powerful. I hope to visit more historical places during my time here because it inspires me to use my voice to make change as well.  
Address: 2429 University Avenue, Des Moines, IA 50311 Phone: 515-271-3623 Fax Number: 515-271-3631 Email: harkininstitute@drake.edu Office Hours: Monday to Friday 9 a.m. to 4 p.m.