Sloan Nickel is one of four recipients of the 2019 D.C. Experience Scholarship, which provides financial support for Drake University students interning in Washington, D.C., for the summer. She will provide bi-weekly updates of her time in D.C.
I have now completed three weeks here in D.C. In these three weeks I have learned so much at my internship and have already had so many wonderful opportunities and experiences. At my internship at the National Women's Law Center, I get to aid the Child Care team by drafting PowerPoints, researching data for issue briefs and sitting in on important meetings with the National Head Start Association or either our State Advocates or Child Care Coalition groups. I have been encouraged to attend outside professional development programming and am looking forward to an upcoming event on child care policy.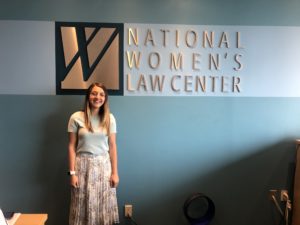 I recently was able to go to the Harkin on Wellness Report Release at the National Press Club, and it was great to see some familiar faces from the Harkin team, while also learning a lot about the capabilities of food nutrition and education. Besides my internship, I have had a lot of fun exploring the D.C. area. I have gone to the National Gallery of Art's Jazz in the Garden series multiple times already and enjoy being outside and listening to music with my friends and coworkers. One of my favorite things I have done so far, is exploring Noma. I went to Union Market and enjoyed some delicious food, and then went to one of D.C.'s many local bookstores, called Politics and Prose. Overall, I really enjoy my internship and am learning a lot, and I make sure to have some fun with my friends when I am not working.
Address: 2429 University Avenue, Des Moines, IA 50311 Phone: 515-271-3623 Fax Number: 515-271-3631 Email: harkininstitute@drake.edu Office Hours: Monday to Friday 9 a.m. to 4 p.m.