Ivy Beckenholdt is one of four recipients of the 2019 D.C. Experience Scholarship, which provides financial support for Drake University students interning in Washington, D.C., for the summer. She will provide bi-weekly updates of her time in D.C.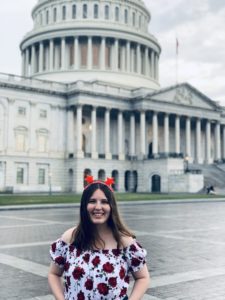 It's been an exciting time here in D.C. with the Independence Day celebration. I had the opportunity to see the live taping of the PBS show "A Capitol Fourth". It was awesome to see John Stamos host and Carole King sing. I always used to watch the celebration with my sister, and so to see it in person was great. Afterwards, the fireworks show began by the Washington Monument. It was amazing to see the fireworks by all of those amazing monuments. This past weekend I also had the opportunity to visit the White House! It was so cool to go inside the building I've always idolized. To see iconic portraits of Kennedy and Washington was an experience I'll never forget.
At work I've had the opportunity to see Rep. Axne speak on the House floor about her legislation to help rural small businesses. It was awesome to see the member I work for share her work. I was also able to attend a briefing on adult higher education. It gave me a lot of new perspectives on education and what work Drake should do to support our older students.
Address: 2429 University Avenue, Des Moines, IA 50311 Phone: 515-271-3623 Fax Number: 515-271-3631 Email: harkininstitute@drake.edu Office Hours: Monday to Friday 9 a.m. to 4 p.m.