Rachel Fritz is one of four recipients of the 2019 D.C. Experience Scholarship, which provides financial support for Drake University students interning in Washington, D.C., for the summer. She will provide bi-weekly updates of her time in D.C.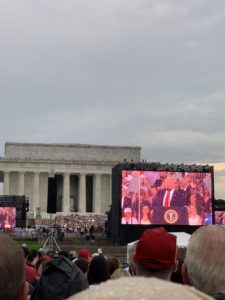 These pasts few weeks have been incredibly busy for me as I had the opportunity to attend the July 4th Presidential Speech at the Lincoln Memorial and watch all the flyovers in person. This opportunity to hear the President of the United States speak was incredible, and I can now say I have seen the president in Washington.
Just last week, I had the opportunity to travel to Atlanta, Georgia, and Montgomery and Selma, Alabama for a conference called From Enslavement to Mass Incarceration. At this conference, I had the opportunity to visit Dr. Martin Luther King Jr.'s burial site and his home. This history was quite fascinating to me because I did not know much about his home life just his advocacy efforts.
Once I was in Montgomery, I had the phenomenal opportunity to tour the Equal Justice Initiative (EJI) museum all about enslavement and mass incarceration. This museum was very powerful as it provided a different perspective as to how individuals of color have always been mistreated. The most impactful aspect of this museum was that the EJI researched to pinpoint the exact locations where hundreds of African Americans were lynched. Then, they went out to this location and collected soil and put it in a large jar with their name, when they were lynched and where the lynching occurred to raise awareness to how many lynchings took place in the South. I also had the opportunity to tour the lynching memorial that was established by the EJI. This memorial was powerful and depressing at the same time as they listed as many names as they could find for how many people were lynched in specific counties. I also was able to go to the exact location where Rosa Parks was arrested when she refused to stand up on a city bus.
While I was in Selma, I had the opportunity to walk across the Edmund Pettus Bridge where Bloody Sunday occurred. It was a very powerful moment to reflect on all the history I was able to see with my own eyes. I visited a few museums in Selma to learn more about Bloody Sunday and happened to run into a survivor of the event. This was an incredible moment to be able to ask the woman who was there on Bloody Sunday about her experiences and it allowed me a deeper insight into an event that is written into our history. By sitting down and speaking with her I was able to understand what was going through her mind as she walked upon the angry police officers in Selma who looked to stop the march. This experience altogether allowed me to gain insight and exposure to some of the history surrounding the Civil Rights Movement and how this nation has grown in some ways since then.
The pictures I attached are from the Survivor of Bloody Sunday and the president's speech on July 4th at the Lincoln Memorial.
Address: 2429 University Avenue, Des Moines, IA 50311 Phone: 515-271-3623 Fax Number: 515-271-3631 Email: harkininstitute@drake.edu Office Hours: Monday to Friday 9 a.m. to 4 p.m.