The Harkin Institute was invited to submit a guest column to the Des Moines Business Record's Annual Real Estate Magazine about all that the organization learned about the value of universal design while building the new Tom and Ruth Harkin Center at Drake University. The column was written by Harkin Institute Policy Director Amy Bentley, and BNIM architects Kevin Nordmeyer and Jason Kruse. An except of the column is available below. The full column is available to Business Record subscribers here.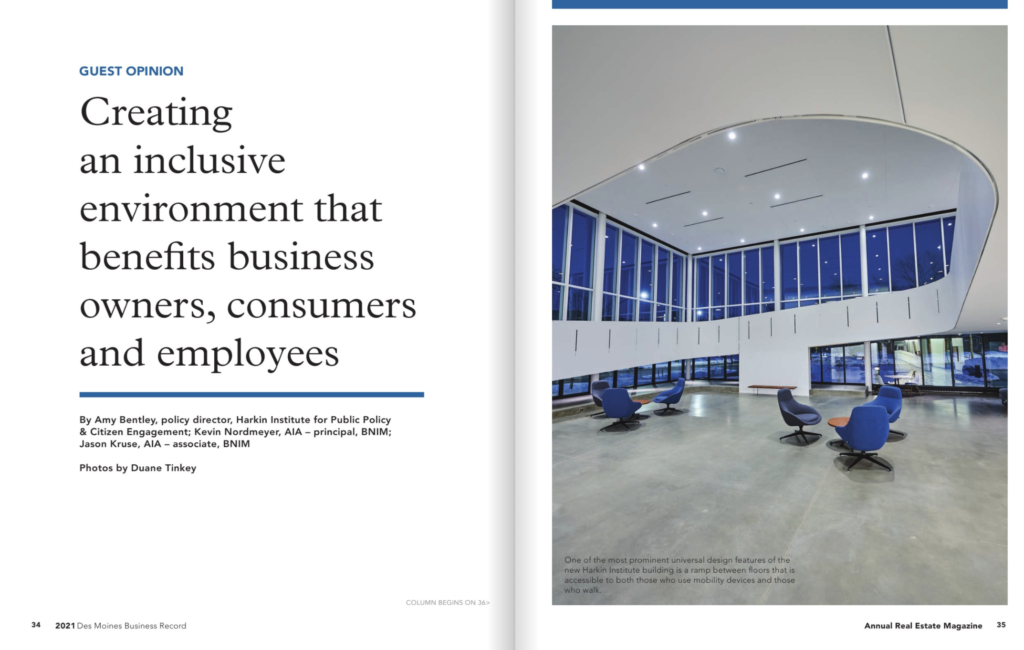 Over the last year, companies have embarked on conversations seeking solutions to make the workforce more diverse, systems more inclusive and office environments more adaptable. At the same time, Americans are paying attention to the social aspects of business as never before. Disability inclusion, as realized through universal design, is a vital component to any conversation on creating equity within our organizations and systems.

All of these things have been top of mind as we've worked over the past two years to thoughtfully create the Tom and Ruth Harkin Center, new home of the Harkin Institute for Public Policy & Citizen Engagement at Drake University. It is named for Harkin Institute founders Ruth Harkin and Sen. Tom Harkin, who represented Iowa in Congress for 40 years before retiring in 2015.

As lead sponsor of the Americans with Disabilities Act (ADA) and a lifelong disability rights advocate, Sen. Harkin challenged us to construct one of the most inclusive buildings in the world. We embarked on a mission to fully understand and employ universal design. But we didn't do it alone.

There is a common saying in the disability community: "Nothing about us without us." It was in this spirit that we tapped the institute's existing disability policy advisory committee to inform the building design. This group is composed of disability leaders and advocates representing a wide swath of the disability community from across the country, and they continue to advise the institute on our programs and policies regarding accessibility.
Address: 2429 University Avenue, Des Moines, IA 50311 Phone: 515-271-3623 Fax Number: 515-271-3631 Email: harkininstitute@drake.edu Office Hours: Monday to Friday 9 a.m. to 4 p.m.