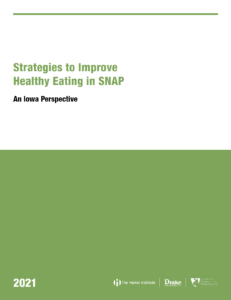 The Harkin Institute for Public Policy & Citizen Engagement has been selected as one of 30 organizations to partner with the Center for Science in the Public Interest (CSPI) on efforts to engage diverse populations in support of healthier food environments.
As part of this partnership, The Harkin Institute will work to implement the information gathered from Iowans on how programs and policies can help strengthen nutrition and public health benefits of the Supplemental Nutrition Assistance Program's (SNAP).
The Harkin Institute and CSPI are already heavily involved in this work. Over the past two years, The Harkin Institute and CSPI held stakeholder convening, individual interviews with SNAP recipients, interviews with food retailers and conducted statewide polling about Iowans' perceptions of the program. Earlier this year, the organizations published the report "Strategies to Improve Healthy Eating in SNAP: An Iowa Perspective," which offers recommendations to inform the potential impact, feasibility, barriers and supports for future pilot projects to test strategies to better support healthy eating among SNAP recipients.
"There has never been a more urgent time to restore and rebuild healthier and more resilient communities," CSPI President Peter Lurie said in regard to the most recent round of grant funding. "Our state and local partners will be driving the engine of this campaign using sugary drink and other health policy levers to promote the public health, while addressing racial disparities and facing down industry's aggressive marketing to children."
Address: 2429 University Avenue, Des Moines, IA 50311 Phone: 515-271-3623 Fax Number: 515-271-3631 Email: harkininstitute@drake.edu Office Hours: Monday to Friday 9 a.m. to 4 p.m.