This event was the first in a series of dialogues that brought together the disability and investor communities and the private sector to achieve competitive, integrated employment for people with disabilities. Keynote speakers included Susanne Bruyère of
Yang-Tan Institute on Employment and Disability
 at Cornell University and Caroline Casey, founder and creator of
The Valuable 500.
This inaurgal 
dialogue showcased the value proposition for the private sector in creating a diverse and inclusive workforce, and identified ways to create a meaningful pipeline of talent from the disability community to the private sector. This event was also in celebration of 
The Valuable 500 reaching its goal of having 500 global CEOs commit to rebuilding the business system to be more inclusive of people with disabilities.
Solving "Then What?": Empowering Investors to Achieve Competitive, Integrated Employment for Persons with Disabilities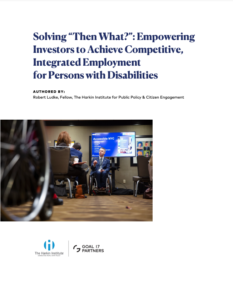 This recently-published white paper explores the role the investor community can play in improving employment outcomes for individuals with disabilities. Investors have both the power and the influence to work with the companies they invest in to fully integrate people with disabilities into all levels of their operations – from entry level to executive management. This paper, authored by The Harkin Institute Research Fellow Robert Ludke, provides a blueprint for achieving this. 
Column: Diversity must include people with disabilities
Read this op-ed from Senator Tom Harkin and Harkin Institute Fellow Robert Ludke that published in Bloomberg.
Address: 2429 University Avenue, Des Moines, IA 50311 Phone: 515-271-3623 Fax Number: 515-271-3631 Email: harkininstitute@drake.edu Office Hours: Monday to Friday 9 a.m. to 4 p.m.