October 6, 2021
Contact
Emily Schettler
emily.schettler@drake.edu
515-271-3592
Harkin Institute welcomes new Retirement Security Policy Director Rayna L. Stoycheva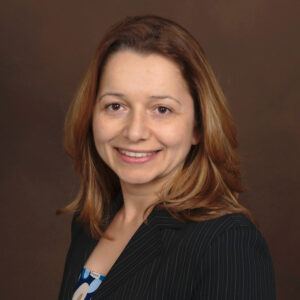 The Harkin Institute for Public Policy & Citizen Engagement is pleased to welcome Rayna L. Stoycheva as its first Retirement Security Policy Director. Dr. Stoycheva is responsible for research on public and private retirement programs, retirement savings access and adequacy, financial literacy and pension wealth inequality.
"Senator Tom Harkin fought to protect Social Security and ensure all Iowans and Americans had the ability to achieve retirement security during his 40 years in Congress," said Joseph Jones, executive director of The Harkin Institute. "Dr. Stoycheva brings a wealth of expertise that will help us advance Senator Harkin's legacy in this area and continue our work to educate the public and policymakers."
Prior to joining The Harkin Institute, Dr. Stoycheva was a faculty member at the University of Miami, where she taught courses in policy analysis, public finance, health economics, microeconomics and statistics. Her publications include articles and book chapters on pensions, state and local public finance, and the financial management of international organizations.
Dr. Stoycheva received her Bachelor's degrees in Political Science and Economics from the American University in Bulgaria, and a Master's degree in Public Administration from Ohio University. She received a joint PhD in Public Policy, with a concentration in Public Finance, from Georgia State University and Georgia Institute of Technology.
"I am proud to join The Harkin Institute, where I can develop research and programming to promote knowledge about such an essential component of the safety net." Dr. Stoycheva said.
The Harkin Institute conducts research and analysis in four policy areas important to Senator Harkin throughout his career, including retirement security, labor and employment, people with disabilities and wellness and nutrition.
The Institute's retirement security work is made possible in large part by a generous donation from Larry and Kathy Zimpleman. Larry Zimpleman is a member of The Harkin Institute's Retirement Security Core Advisory Committee and retired board chairman of Principal, where he spent 40 years in various management and leadership positions, including CEO.
"Retirement security remains one of the most important policy issues here in the US and around the world," Zimpleman said. "Given Sen. Harkin's work in the Senate, it is natural that The Harkin Institute would focus on retirement as one of its major policy areas.  Under Dr. Stoycheva's leadership, I look forward to the Institute becoming one of the leading voices on retirement policy in the years ahead."
###
The Harkin Institute for Public Policy & Citizen Engagement at Drake University exists to inform citizens, inspire creative cooperation, and catalyze change on issues of social justice, fairness, and opportunity. The Institute was founded on the premise that good public policy is best achieved when policymakers have access to high quality information, political processes are open and well-understood, and citizens are informed and active participants. The Harkin Institute offers programming, experiences, research, and connectivity focused on four areas that defined Senator Harkin's career – labor and employment, people with disabilities, retirement security, and wellness and nutrition. Learn more on our website, harkininstitute.drake.edu.
Address: 2429 University Avenue, Des Moines, IA 50311 Phone: 515-271-3623 Fax Number: 515-271-3631 Email: harkininstitute@drake.edu Office Hours: Monday to Friday 9 a.m. to 4 p.m.