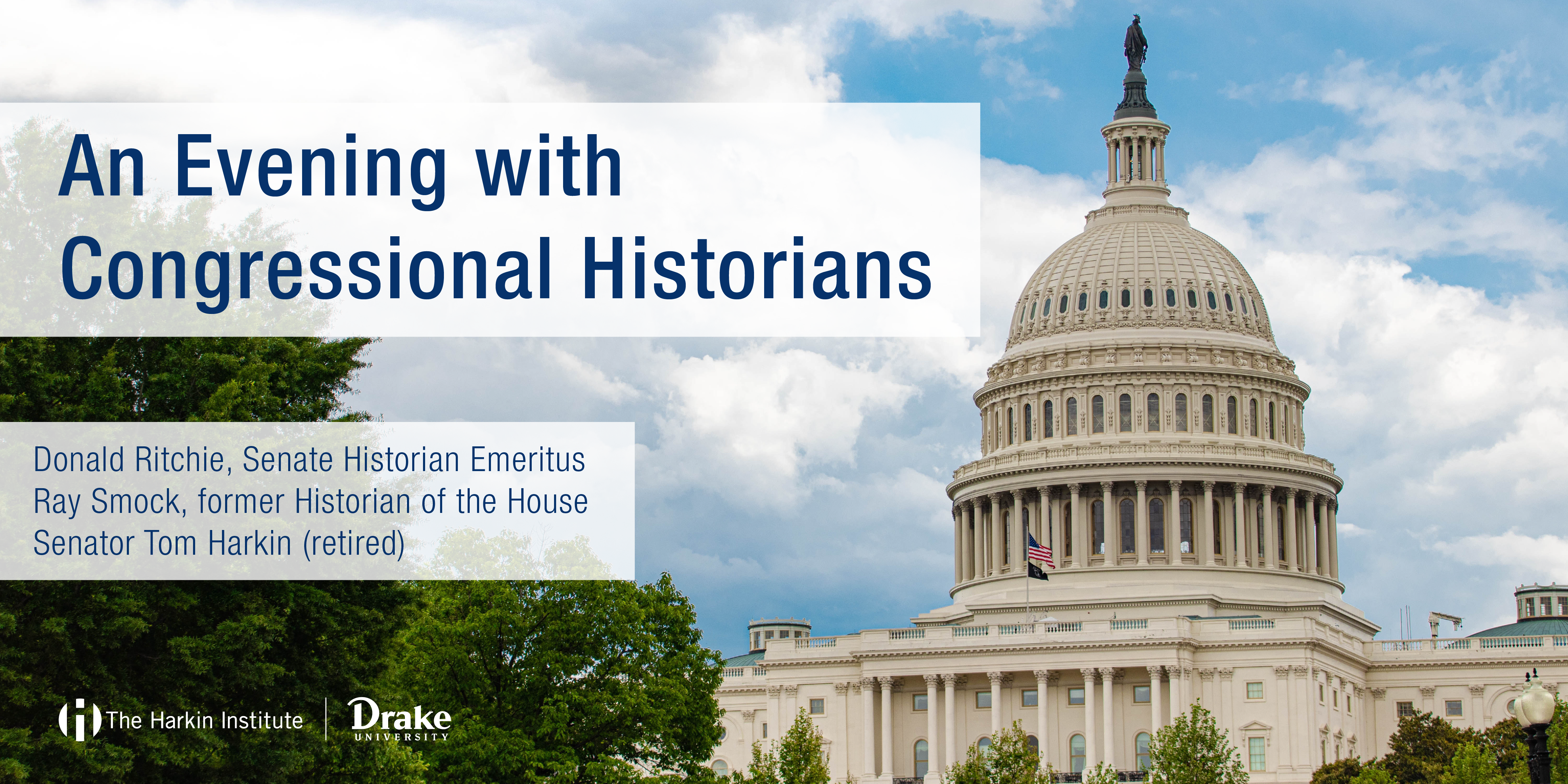 Event Details
Date: Wednesday May, 3
Time: 7:00-8:00 p.m.
Location: Tom and Ruth Harkin Center and YouTube Livestream
Accommodations: American Sign Language and Live Captioning will be provided. Contact harkininstitute@drake.edu to request other accomodations.
RSVP: Via Eventbrite. This event is free but registration is required for in person attendance.
Pre-Event Reception
Join us for our pre event reception starting at 6:00 p.m. at the Tom and Ruth Harkin Center! You must RSVP via Eventbrite to attend.
Event Summary
Join us for An Evening with Congressional Historians. Don Ritchie, Historian Emeritus of the United States Senate and Ray Smock, former Historian of the House of Representatives will sit down with Senator Tom Harkin (retired) to discuss their efforts to preserve and provide access to the personal papers of former members of Congress, and conduct scholarship, programs, and civic initiatives focusing on Congress in past and current contexts.  
The study of Congress is more relevant now than ever because our democracy is more fragile than ever. One way to fight a threat to democracy is to study history. Both lecturers will bring a wealth of knowledge of congressional history through their distinguished careers and will provide invaluable historical context for topics facing Congress today, such as partisan polarization, transparency in government, and much more.  
Address: 2800 University Avenue, Des Moines, IA 50311
Phone: (515) 271-3623
Email: harkininstitute@drake.edu
Office Hours: Monday to Friday 9:00 a.m. to 4:00 p.m.