D.C. Experience Scholarship
The Harkin Institute D.C. Experience Scholarship was established in 2014 to honor Senator Harkin's legacy by providing financial assistance to Drake undergraduate students with financial need who have secured a summer internship in a non-profit organization, congressional office, or government agency in Washington, D.C.
The 2022 D.C. Experience Scholarship application is open! Apply now through March 21, 2022.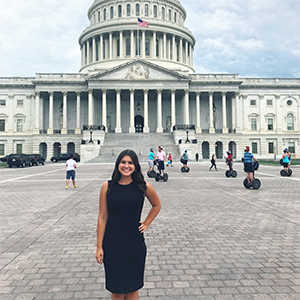 The Harkin Institute D.C. Experience Scholarship
This scholarship is designed to expose students to policymakers and the policymaking process, much as Senator Harkin experienced as an intern for Congressman Neal Smith in the summer of 1969, an experience that inspired Senator Harkin to pursue a career in public service. This scholarship is funded in large part through the generosity of the Senator's former staff members, many of whom benefitted from their exposure to policymakers and policymaking in our nation's capital. The Harkin Institute D.C. Experience Scholarship is administered by The Harkin Institute for Public Policy & Citizen Engagement at Drake University.
Are you interested in pursuing a summer internship in Washington D.C. but unsure where to begin? The staff at The Harkin Institute can help!
This scholarship program is nonpartisan and is open to all undergraduate students regardless of political party affiliation, area of study, and internship placement.
Financial Information
Scholarship Coverage and Compensation
The stipend for this scholarship covers the recipient's housing accommodations for a 12-week period from May to August 2022 with Washington Intern Student Housing (WISH), a non-refundable room deposit, as well as travel expenses up to $500. Funds will be paid directly to the third party.
Recipients will be responsible for any room damages incurred during their stay.
Under extreme circumstances, an applicant may apply for additional funding by providing:
Budget and documentation to support the request for additional funding (i.e., past bills and contracts)
Financial aid package for the current school year
Personal statement explaining the special circumstances
Qualifications
The following qualifications are required for The Harkin Institute D.C. Experience Scholarship:
The applicant must be an undergraduate student at Drake University
The applicant must have a cumulative GPA of 2.75 or greater
The applicant must complete an application form and submit the required documents by the stated deadline
The recipient must complete the fall term as a full-time student at Drake University following the summer D.C. internship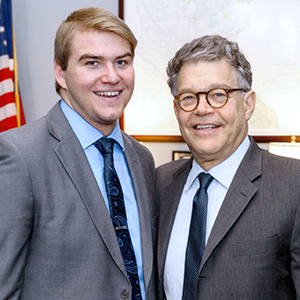 How To Apply
The following documents are required for The Harkin Institute D.C. Experience Scholarship application submission 
Completed Scholarship Application
Signed financial aid statement form
Typed 500-word essay, as described in the application form
Resume
Unofficial Drake University transcript
One faculty recommendation
Acceptance letter from internship placement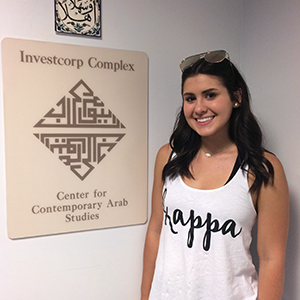 Recipient Selection
The Harkin Institute D.C. Experience Scholarship Advisory Committee will review all application materials and choose recipients during the spring semester.
The Harkin Institute D.C. Experience Advisory Committee Members
Members of the Advisory Committee include: Iowa State Senator Zach Nunn; Johnston Mayor, Paula Dierenfeld; Former Senator Harkin staffer, Ray Walton; Denise Stowman, Assistant Director of Financial Aid for Drake University; and Retired Senator Tom Harkin.
Recipient selection is based on the following:
Financial need
The potential for the proposed internship to expose the recipient to policymakers and the policymaking process
Previous work/volunteer experiences and extracurricular activities
Grade point average
Applicant's written essay
Faculty recommendation
Timeline for the selection of The Harkin Institute D.C. Experience Scholarship
The recipients will be notified of their selection by The Harkin Institute mid-semester.
The recipients will be provided a deadline following that notification in which they must accept the scholarship offer and return the formal acceptance letter to The Harkin Institute.
Questions
Please contact us for any questions regarding the scholarship or the application process at:
Address: 2800 University Avenue, Des Moines, IA 50311
Phone: (515) 271-3592
Fax Number: (515) 271-3631
Email: harkininstitute@drake.edu
Office Hours: Monday to Friday 9:00 a.m. to 4:00 p.m.