Sloan Nickel is one of four recipients of the 2019 D.C. Experience Scholarship, which provides financial support for Drake University students interning in Washington, D.C., for the summer. She will provide bi-weekly updates of her time in D.C.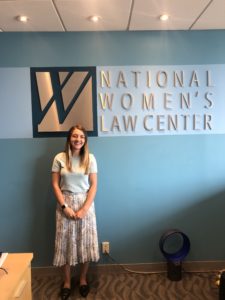 I have certainly settled in at my internship at the National Women's Law Center (NWLC). I am working on fun projects and have made some great friends within my coworkers. Currently, I am working on a federal child care update presentation, which my supervisor will be giving to the National Head Start Association. It has been a lengthy project, but I really enjoy working on it and with the Child Care Team. Additionally, my work has had some great opportunities lately that I have gotten to take advantage of. First, I was able to go to a Head Start training, where I met the director of the NHSA, and got to meet many other interns working in child care.
Recently, the CEO of NWLC was asked to speak on a panel about U.S. Supreme Court Justice Ruth Bader Ginsberg, and I was able to get one of the lucky spots to attend the event and listen to Justice Ginsburg speak. She talked about her life and gender equality as she has witnessed it, and it was a truly amazing experience.
Outside of this, the Fourth of July was yesterday, and it was a very special holiday to experience in the nation's capital. I attended President Trump's speech, and got to see some of the brand-new jets and planes. After this event, I went to watch the fireworks on the National Mall, which has now raised my firework expectations by tenfold.
Address: 2429 University Avenue, Des Moines, IA 50311 Phone: 515-271-3623 Fax Number: 515-271-3631 Email: harkininstitute@drake.edu Office Hours: Monday to Friday 9 a.m. to 4 p.m.