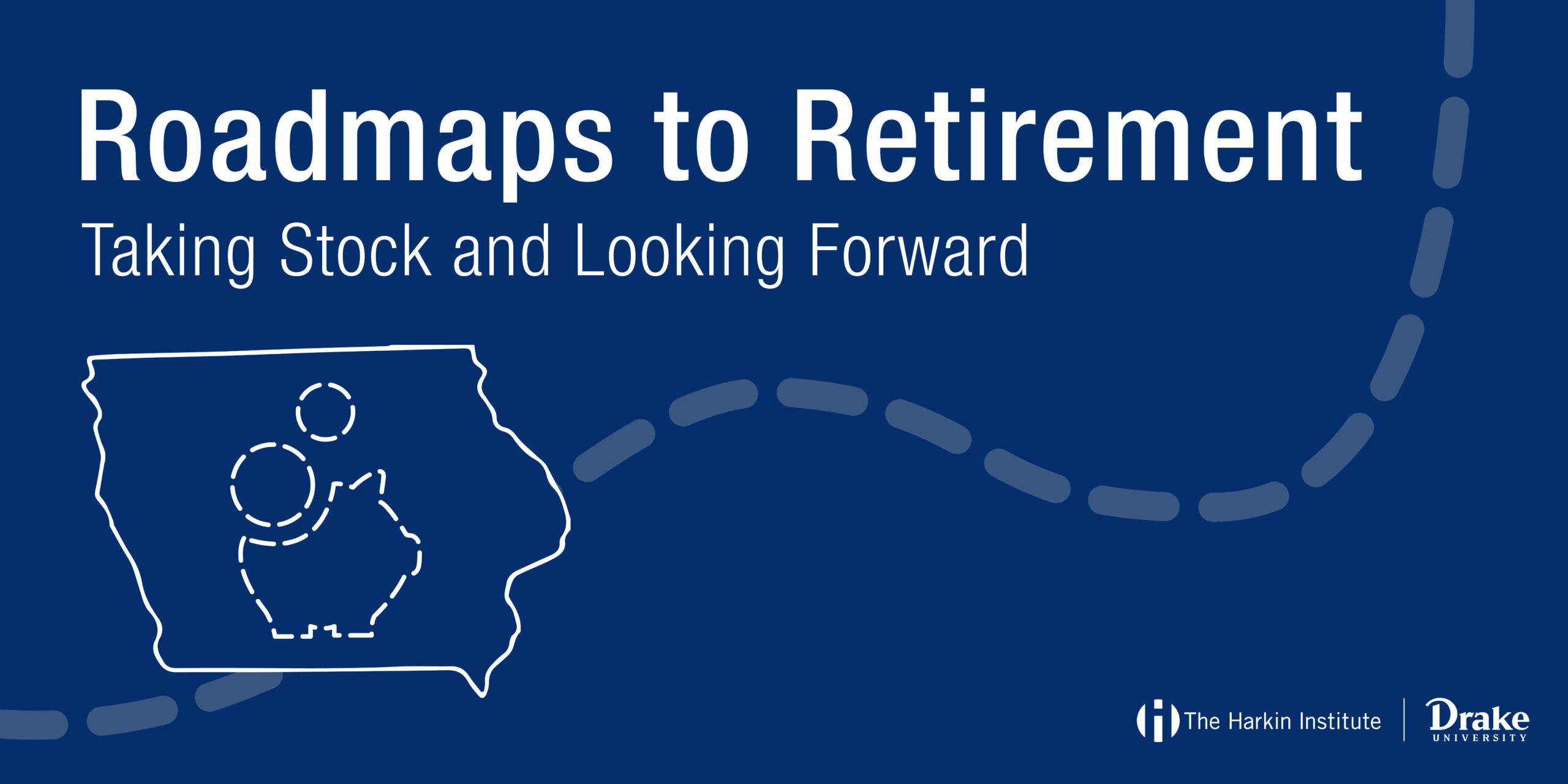 Roadmaps to Retirement:
Taking Stock and Looking Foward
Date: December 7, 2022
Time: 11:00 a.m.- 2:00 p.m. CT
Location: Tom and Ruth Harkin Center (2800 University Avenue) & YouTube Livestream
Cost: Free, but registration is required.
Accommodations: American Sign Language (ASL) and Real Time Captioning (CART)
Please contact harkininstitute@drake.edu to request other accommodations for this event.
The Harkin Institute and the U.S. Department of Labor invite you to a retirement security roundtable focused on Social Security, disability employment, and retirement savings. Social Security and are essential earned benefits providing a safety net both during employment and in retirement.
The first panel will discuss both programs and reform proposals to sustain and strengthen them. The second panel will focus on individual retirement savings through employers and other programs. Employer retirement savings programs are for building adequate retirement income, but access and participation vary by income, firm size, occupation, and race. Accumulation in those accounts is also hampered as a result of leakage due to cash-outs and early withdrawals. The panel will discuss strategies to close the gaps and improve account portability.
Agenda
Panel One: Social Security and
Disability |
11:00 a.m.– 12:00 p.m. CT
Senator Tom Harkin (retired)
Kilolo Kijakazi, Acting Commissioner, U.S. Social Security Administration
Taryn M. Williams, Assistant Secretary, U.S. Department of Labor, Office of Disability Employment Policy
Max Richtman, President, National Committee to Preserve Social Security and Medicare
Judge Bob Pratt, Senior District Judge for the Southern District of Iowa
Lunch | 12:00– 1:00 p.m. CT
(Note: lunch tickets are available in limited quantity)
Panel Two:
Employer Retirement
Savings
Programs: Coverage, Accumulation
, Adequacy, and Lifetime Income
|
1:00– 2:00 p.m. CT
Kathleen Kennedy Townsend, Department of Labor Representative on Retirement and Pension Issues (Moderator)
Kim Olson, Senior Officer for Policy, Retirement Savings Project, Pew Charitable Trusts
Susan Lenczewski, Executive Director, MN Legislative Commission on Pensions and Retirement
Michael Kreps, Principal, Co-Chair Retirement Services Practice, Groom Law Group
Mark Shemtob, Fellow of the Society of Actuaries
Materials for Virtual Participants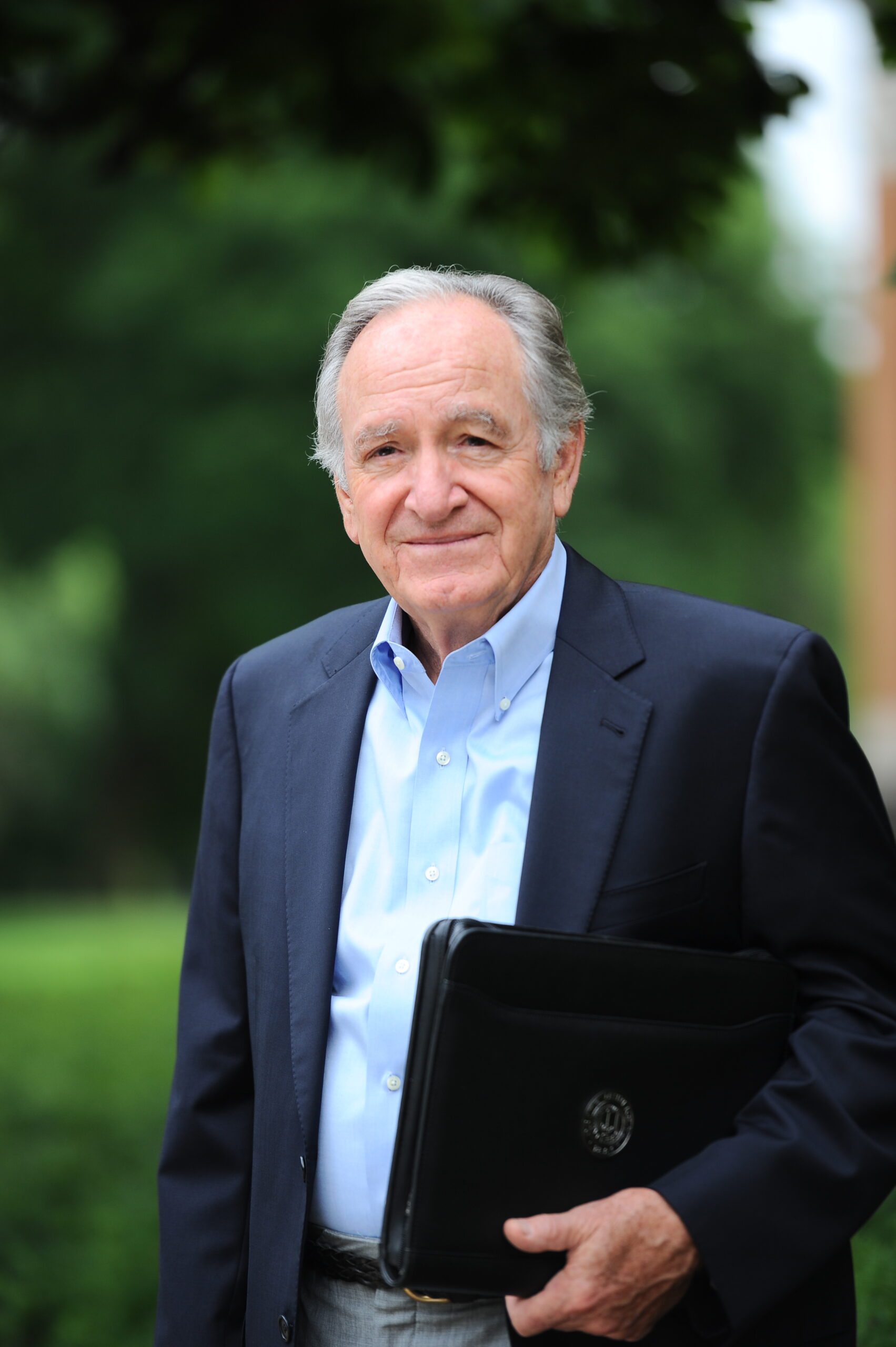 Senator Tom Harkin (retired)
Retired U.S. Senator, IA-05
In 1974, Tom Harkin was elected to Congress from Iowa's Fifth Congressional District. His energetic, person-to-person campaign carried the day against an incumbent in a long- standing Republican district. In 1984, after serving 10 years in the U.S. House of Representatives, Senator Harkin challenged an incumbent senator and won. Iowans returned him to the Senate in 1990, 1996, 2002, and 2008. Senator Harkin made history by becoming the first Iowa Democrat to win a consecutive second term in the U.S. Senate, and to date is the longest serving elected Democrat in Congress in Iowa history. He retired from the United States Senate in January 2015.  
In September 2009, Senator Harkin became chairman of the Senate Health, Education, Labor and Pensions (HELP) Committee. As chairman, he played a critical role in the passage of the Affordable Care Act. In 2015, Senator Harkin and Ruth Harkin established The Harkin Institute for Public Policy & Citizen Engagement at Drake University in Des Moines, Iowa, to inform citizens, inspire creative cooperation, and catalyze change on issues of social justice, fairness, and opportunity. The Institute works to improve the lives of all Americans by giving policymakers access to high quality information and engaging citizens as active participants in the formation of public policy. 
Tom Harkin was born in Cumming, Iowa (pop. 150) on November 19, 1939, the son of an Iowa coal miner father and a Slovenian immigrant mother. To this day, he still lives in the house in Cumming where he was born. In 1968, Tom married Ruth Raduenz, the daughter of a farmer and a school teacher from Minnesota. Tom and Ruth have two daughters, Amy and Jenny, and four grandchildren.  
Dr. Kilolo Kijakazi
Acting Commissioner of the Social Security Administration (SSA)
Dr. Kilolo Kijakazi is the Acting Commissioner of the Social Security Administration (SSA).
Prior to her appointment as Acting Commissioner under the Social Security Act, Dr. Kijakazi served as the Deputy Commissioner for Retirement and Disability Policy at SSA from January 2021- July 2021. During her time as Deputy Commissioner, Dr. Kijakazi advised the Commissioner on policy issues and was responsible for planning and managing the development of program policy, policy research and evaluation, and statistical programs to inform programs administered by SSA. These programs include Retirement and Survivors Insurance, Disability Insurance, and Supplemental Security Income.
From 2014 – 2021, Dr. Kijakazi served as an Institute fellow at the Urban Institute where she developed collaborative partnerships to expand and strengthen Urban's rigorous research agenda, effectively communicate findings to diverse audiences, and recruit and retain a diverse research staff at all levels. Dr. Kijakazi also conducted research in the areas of economic security, structural racism, and the racial wealth gap.
Dr. Kijakazi holds a Bachelor of Arts degree from the State University of New York, Binghamton, a Master of Social Work degree from Howard University, and a PhD in public policy from the George Washington University.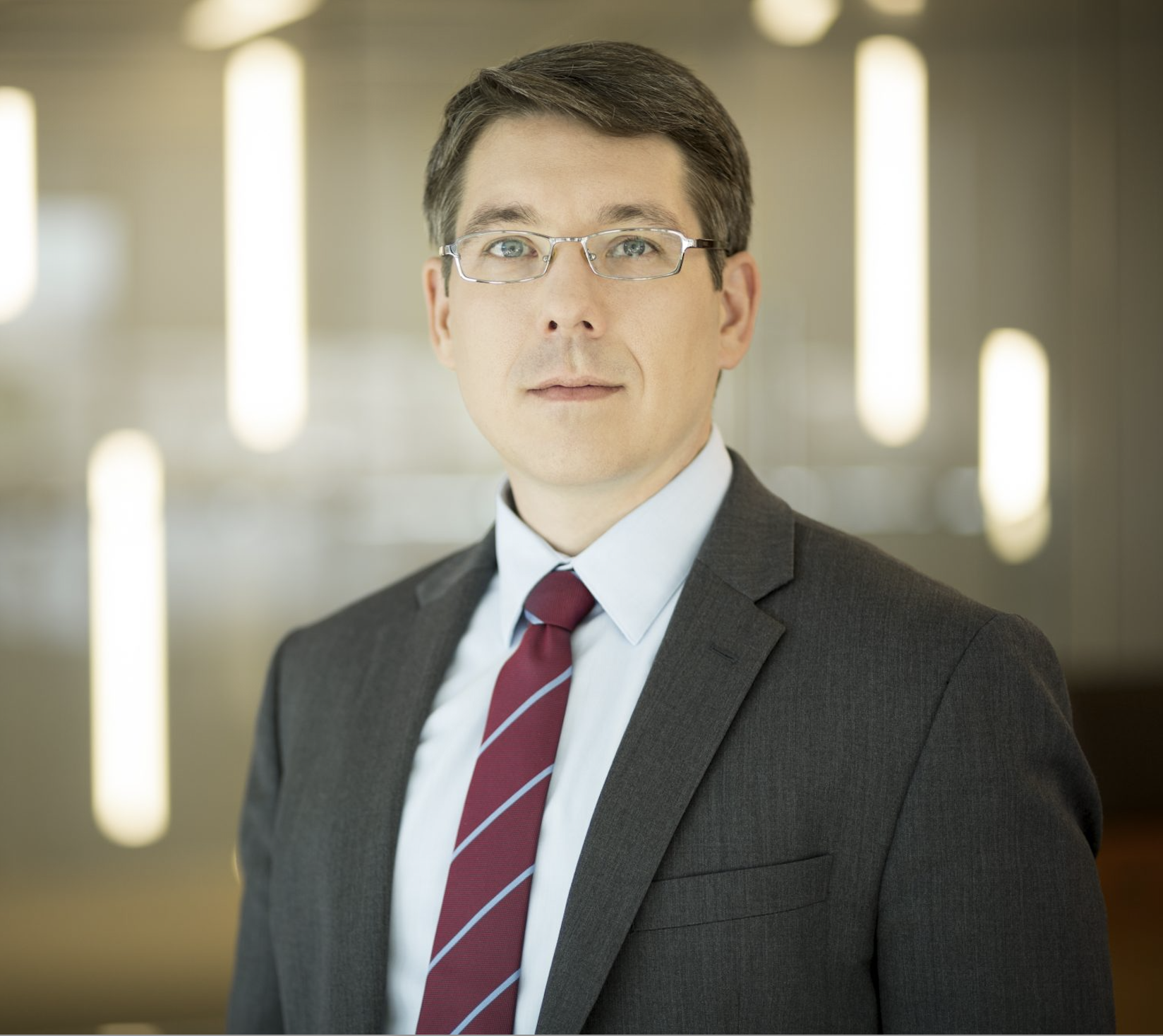 Michael Kreps
Principal, Co-Chair Retirement Services Practice, Groom Law Group
Michael Kreps is co-chair of Groom's Retirement Services & Fiduciary Group, and he works with a wide variety of clients on complex retirement and health plan issues.  His firsthand experience with the legislative and regulatory process gives him a perspective that is often instrumental in helping clients develop and implement effective compliance and advocacy strategies.
Michael advises many of the country's largest benefit plans and service providers on issues related to plan governance, administration, funding, and restructuring.  Michael is an expert on benefit plan recordkeeping and the development of complex financial and insurance products. He also serves as fund counsel to some of the largest benefit plans in the country, including public retirement systems and VEBAs.  Michael helps clients address complex pension funding challenges for both single employer and Taft-Hartley (multiemployer) plans, and he has been involved in over a dozen distress terminations before the Pension Benefit Guaranty Corporation (PBGC).
As a zealous advocate, Michael routinely represents clients before regulators and Congress.  He has successfully navigated dozens of Department of Labor (DOL) investigations, including a large number of service provider "book of business" audits.  Michael also has secured federal legislation on behalf of clients to, among other things, change the pension funding rules for community newspapers, facilitate retirement plan participation by homecare workers, and provide pension funding relief to a national non-profit.
From the 111th through the 114th Congresses, Michael served as the Senior Pensions and Employment Counsel for the U.S. Senate Committee on Health, Education, Labor, and Pensions.  He managed all aspects of the Committee's retirement agenda and had primary staff responsibility for pension legislation, including the pension investment provisions of the Dodd-Frank Wall Street Reform and Consumer Protection Act, the funding stabilization and Pension Benefit Guaranty Corporation reform provisions of the MAP-21 Act of 2012, the Pension Relief Act of 2010, and the CSEC Pension Flexibility Act. He also led the Committee's oversight of regulatory activities involving employee benefit plans.
Michael serves as external general counsel for the Committee on Investment of Employee Benefit Assets (CIEBA) and is on the Executive Committee of the Defined Contribution Institutional Investment Association (DCIIA).  He is a graduate of the George Washington University Law School (JD with honors), the University of Colorado (with distinction), and the Sorensen Institute Political Leaders Program.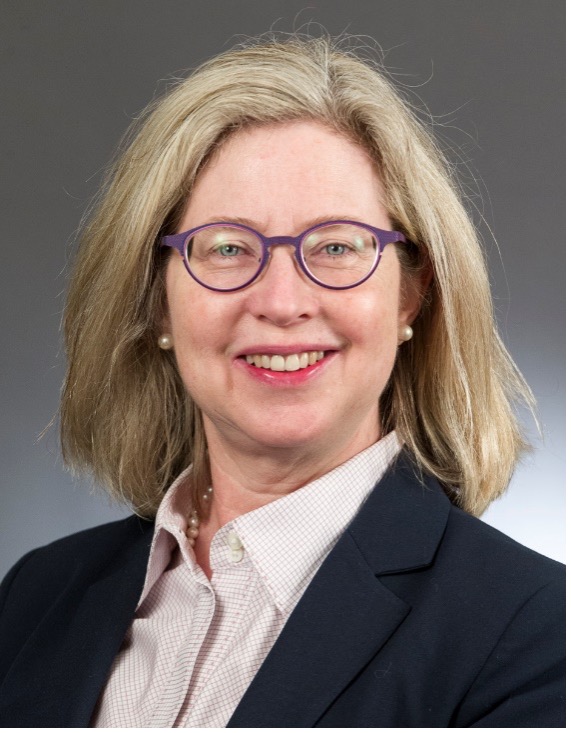 Susan Lenczewski
Minnesota Legislative Commission on Pensions and Retirement
Susan Lenczewski (len-chess-key) is the executive director of the Legislative Commission on Pensions and Retirement for the State of Minnesota. The Commission considers and recommends action on legislation relating to the State's pension and retirement plans for public employees, including changes to benefits and funding and to maintain compliance with federal law. Prior to joining the legislature in 2015, Susan's career as a retirement benefits attorney included 18 years as a partner and associate at Gray Plant Mooty in Minneapolis, 6 years as in-house counsel for a Calgary-based energy company, and 2 years as a staff attorney for the Pension Benefit Guaranty Corporation in DC.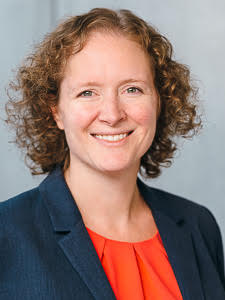 Kim Olson
Senior Officer for Policy, Retirement Savings Project, Pew Charitable Trusts
Kim Olson is the Senior Officer for Policy on The Pew Charitable Trust's Retirement Savings Project. In this role, she provides expertise and technical assistance to state governments studying, legislating, or implementing automated savings programs. Prior to joining Pew, Olson served as policy director to Oregon State Treasurer Tobias Read, where she designed policies, wrote program rules, and advanced legislation to help Oregonians save for the future, most notably through the first auto-IRA program in the United States, OregonSaves. Olson also served as a senior adviser at the Behavioral Insights Team, using behavioral science concepts to inform policy and improve public services in state and city government. She began her career in the U.S. Foreign Service in diplomatic assignments at the U.S. embassies in Bern, Switzerland, and Ankara, Turkey. Olson holds a bachelor's degree in international studies and German from the University of Oregon and a master's degree in German and European studies from Georgetown University.
Judge Bob Pratt
Senior District Judge for the Southern District of Iowa
Robert W. Pratt is a United States District Court Judge for the Southern District of Iowa. Judge Pratt was nominated on August 2, 1996 and again on January 7, 1997 by President Clinton. He was confirmed by the United States Senate on May 23, 1997 and entered on duty on July 1, 1997. He served as Chief Judge of the Southern District of Iowa from May 1, 2006, until November 1, 2011. Judge Pratt became a senior judge on July 1, 2012.
He earned a B.A. degree in Political Science from Loras College in Dubuque, Iowa and a Juris Doctor degree from Creighton University in Omaha, Nebraska. Judge Pratt worked for the Polk County (Des Moines) Iowa Legal Aid Society from 1972 to 1975. He then practiced law privately with two law firms from January 1, 1975 until September 1, 1985 when he began his own practice which terminated upon his confirmation.
While in practice as a legal aid lawyer he represented low income clients in consumer, housing and civil rights areas. While he continued to represent low income clients in his private practice he also represented labor unions, plaintiffs in personal injury claims and workers compensation and Social Security Disability cases. While practicing privately, he was for a four year period also trying cases as a criminal justice attorney (CJA) for persons accused of crimes. He argued 25 cases in the United States Court of Appeals for the Eighth Circuit and 10 cases before the Iowa Appellate courts as well as trying approximately 40 cases to verdict.
His interests as a judge include information technology and access to justice issues. In addition to his work as a judge in the Southern District of Iowa, Judge Pratt has also sat by designation as a judge on the United States Courts of Appeals for the Eighth and Ninth Circuits.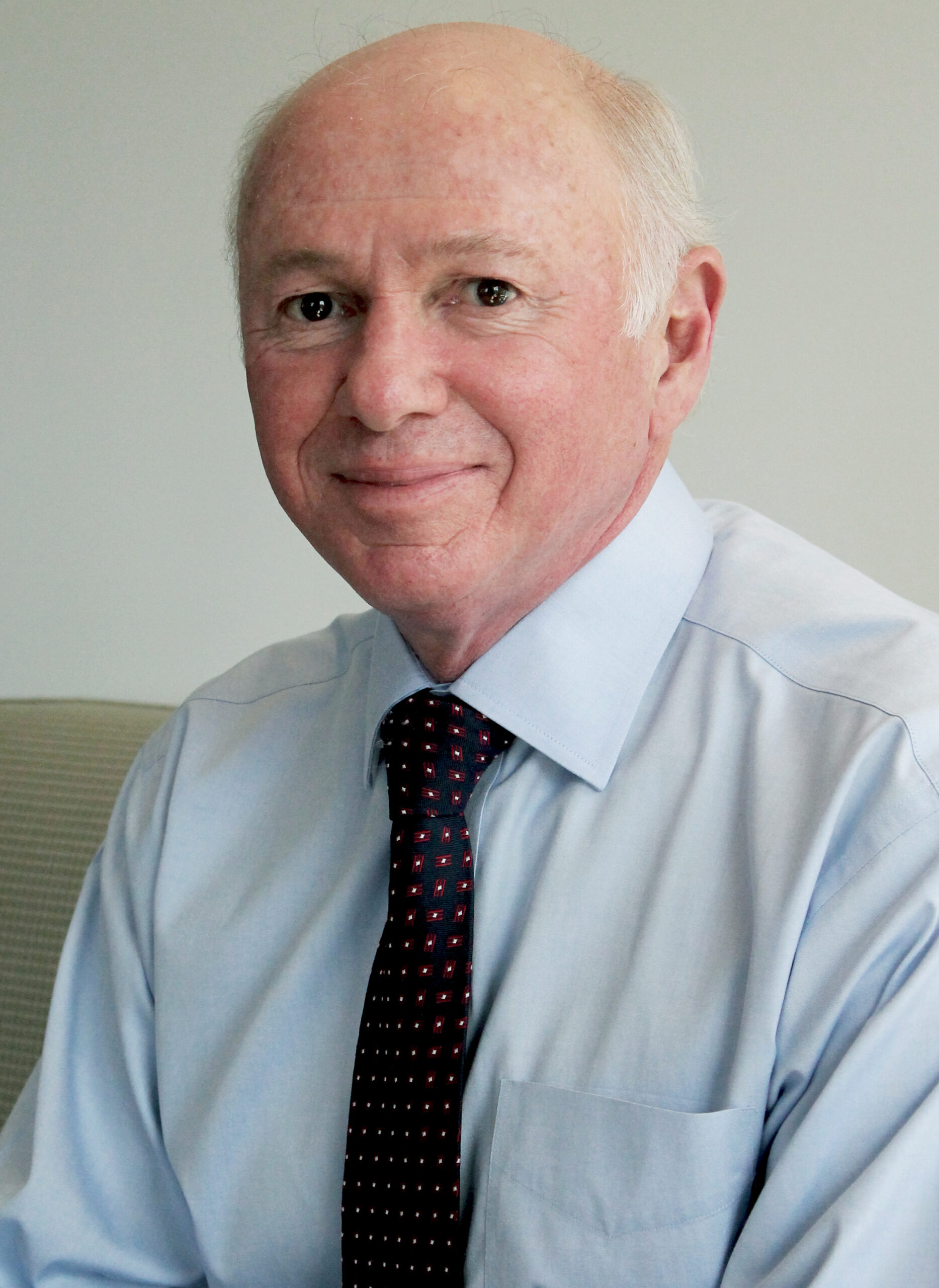 Max Richtman
President, National Committee to Preserve Social Security and Medicare
A former staff director of the Senate Special Committee on Aging and 16-year veteran of Capitol Hill, Max Richtman is President and CEO of the National Committee to Preserve Social Security and Medicare (NCPSSM), one of the nation's most influential senior advocacy and education membership organizations.  Mr. Richtman, who joined the organization in 1989, also serves as Chair of the National Committee's Political Action Committee (PAC) board, a non-partisan committee that endorses candidates for federal office who take uncompromising stands on social policy legislation which impacts the aging population.
Mr. Richtman has testified before House and Senate committees, provided expert political and policy commentary during appearances on CNN, C-Span, FOX, MSNBC, CBS and Pacificaradio networks, participated in hundreds of Congressional Town Hall meetings across the country and has been a featured speaker during numerous national and state conferences on aging.
During his congressional career, Max Richtman directed a lengthy investigation of Equal Employment Opportunity Commission's enforcement of age-discrimination statutes which included a series of oversight hearings and preparing the committee testimony by then-EEOC Chairman Clarence Thomas. As staff director for the Senate Committee on Aging, Mr. Richtman developed legislation to establish a Consumer Price Index [for the] Elderly (CPIE) which if adopted, would lead to a more accurate cost of living adjustment for Social Security beneficiaries.
Max Richtman was born in Munich, Germany, and grew up in Omaha, Nebraska.  He graduated cum laude from Harvard College and received his law degree from Georgetown University LawSchool.  He is vice-chair of the Seniors Coordinating Council of the Democratic National Committee, a member of the National Academy of Social Insurance, Bloomberg BNA Medicare Report Advisory Board, the District of Columbia Bar and a recipient of the 2013 Gray Panthers Social Justice Award and 2014 Winn Newman Equality Award from Americans for Democratic Action. Richtman resides in Washington, DC.
Mark Shemtob
Fellow of the Society of Actuaries
Mark is a Fellow of the Society of Actuaries, and a member of the American Academy of Actuaries, He is an active volunteer within the actuarial profession serving on several committees focused on the challenge to improve retirement programs.  Mark is also a Certified Financial Planner specializing in individual retirement planning. He served as an adjunct professor in the Rutgers University Business School teaching a course on various aspects of the United States retirement system. Mark's primary focus is in addressing the challenges posed by the transition from defined benefit plans to defined contribution plans and the impact on retirement income sustainability. He has written and spoken extensively on this topic.  Mark can be reached at markeaasa@yahoo.com.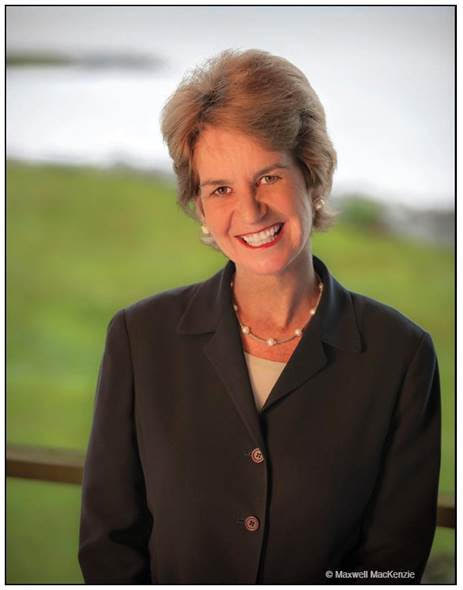 Kathleen Kennedy Townsend
Department of Labor Representative on Retirement and Pension Issues
Kathleen Kennedy Townsend is the Secretary's Representative on Pensions and Retirement at the Department of Labor where she is leading the Retirement Campaign for President Joe Biden and Secretary Marty Walsh.
She has long been dedicated to systemic Retirement Reform.  Previously she was the Director of Retirement Security at the Economic Policy Institute. She Founded the Center for Retirement Security at Georgetown University where she is a Research Professor. She was Chair of the Task Force that created the Secure Choice legislation in Maryland, and served  on the Board of"Maryland Saves", implementing that legislation.
She has served with distinction in both the private and public arenas.    She was Maryland's first woman Lt Governor, and served as Deputy Assistant Attorney General of the United States.
Prior to serving at the Department of Justice, Ms. Townsend led the fight to make Maryland the first—and only—state to make service a high school graduation requirement.
She has been a Managing Director of Rock Creek, one of the largest women owned asset management firm in the US, with states, foundation, unions and corporate pension funds for clients.
She has been a Special Advisor at the Department of State, a Woodrow Wilson Fellow, taught foreign policy at the University of Pennsylvania and the University of Maryland and has been a visiting Fellow at the Kennedy School of Government at Harvard.  In the mid-1980s, she founded the Robert F. Kennedy Human Rights Award.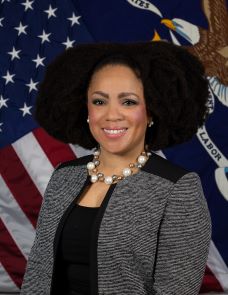 Taryn M. Williams
Assistant Secretary, Department of Labor, Office of Disability Employment Policy
Taryn Mackenzie Williams is the Assistant Secretary of Labor for Disability Employment Policy. In this position, she advises the Secretary of Labor on how the Department's policies and programs impact the employment of people with disabilities and leads the Office of Disability Employment Policy (ODEP), which works with employers and all levels of government to promote evidence-based policy that improves employment opportunities and outcomes for people with disabilities.
Previously, Williams was the managing director for the Poverty to Prosperity Program at American Progress, which works on progressive policies focused on a broad range of anti-poverty strategies. Before joining American Progress, she worked at ODEP on a variety of issues related to education, workforce policy, Social Security, Medicaid and civil rights. In her role as director of youth policy, Williams led agency efforts to coordinate education and employment policy in support of improved labor force outcomes for disabled youth. From 2014 through 2016, Williams served as ODEP's chief of staff. She also undertook detail assignments as associate director for public engagement and liaison to the disability community at the White House from 2014 through 2015 and as a policy adviser on the U.S. Senate Committee on Health, Education, Labor, and Pensions from 2012 through 2013.
Prior to joining the federal government, Williams worked as the research coordinator for leadership programs at the Institute for Educational Leadership and as the director of programs at the National Association of Urban Debate Leagues headquartered in Chicago. She holds a bachelor's degree in public policy from Brown University and a master's degree in education with a concentration in administration, planning, and social policy from Harvard University. She resides in Washington, DC.
Address: 2800 University Avenue, Des Moines, IA 50311
Phone: (515) 271-3592
Fax Number: (515) 271-3631
Email: harkininstitute@drake.edu
Office Hours: Monday to Friday 9:00 a.m. to 4:00 p.m.